Investing is a pretty unknown topic among the majority of young people. Not only is the knowledge about investing not widely directed towards the youth demographic, but we also face the problem of less disposable income, lower wages and a lack of confidence in the financial system (maybe). However, there is so much information out there these days, and passive investing can be done from an app on your phone a lot of the time (although I would advise actually sitting down and researching investments for a while, rather than randomly clicking buy on a Junk Bond ETF and not knowing what you're doing).
This is a list of websites and investing vehicles to get you off to a good start. Click each logo to be directed to the website.
---

This is literally a Bible of financial information. You have everything here from who Jesse Livermore is, to what options arbitrage is, to how diversification of a portfolio works. I use this daily and the articles in the trending section are extremely useful. In the search bar, I input 'investing for young people' and the first link was 'The Best Investments for Young People'. You don't really need me now…
---

Nutmeg is a wealth management firm who have really made investing easy. The initial investment amount is £500. From there, you simply apply variables such as how much you want to have in X years, how much you can add per month, and what type of risk appetite you have (whether you are risk averse or you are willing to take a lot of risk).

---

What a great idea this is. Moneybox is a savings and investing app that works by causing you to say 'it's only 30p' or 'it's only 54p' by rounding up your purchase to the nearest £1 and saving the difference. You are then able to invest it into 3 different categories of investments: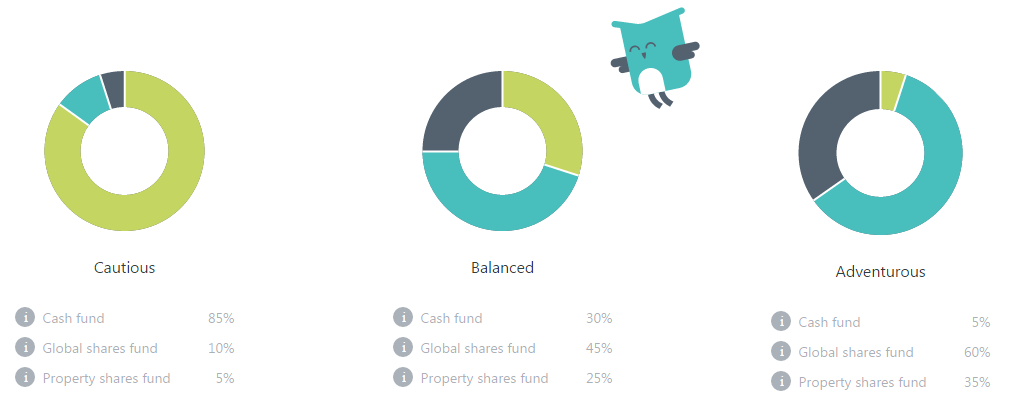 This really takes the chore out of investing, however you are slightly limited in terms of diversification, but it is a perfect, no excuses way of getting into investing right now. What's more is that it only charges £1 per month in fees and a 0.45% charge of the total portfolio at the end of the year… some brokers charge upwards of £8 in commission for each ETF trade…
---
Khan Academy probably taught me more about economics than my economics lectures. I've linked the macroeconomics section because I feel that the more knowledge you have about the economy as a whole, the more careful and knowledgeable you will be about choosing your investments. You have sections on everything from bonds to Keynesianism and the monetary system, all in video format, and all exceptionally well explained.
---
TradingView is for investors who want to combine charting analysis with fundamental analysis (balance sheets, product releases, earnings expectations etc). This is more advanced and requires quite a lot of time and study, and is venturing more on speculation rather than passive investing, however the more strings to your bow you have the better. You can learn more about simple charting methods here.
---
This isn't out in the UK yet however there has been a job posting for London, which normally indicates they'll be opening a London office. Robin Hood allows US equities trading for free. It's too early to say whether they'll allow UK stocks but we shall see. I presume they markup the spread (the difference between the buy and sell price of an asset) in order to make revenue, so technically it's not free but if you're investing on a longer time frame, this shouldn't matter.
---

Reuters is my favourite news service. It provides, in my opinion, the best financial news out of all providers. Click the link to download to mobile.
---
---
---

Those who are already more than beginner investors can look at IG Index for their ETF brokerage department. IG are probably the best retail platform to offer ETFs. They have a full free education section where ETF investing is explained in video media. Be warned that you do need to have slightly more than basic knowledge but still it's not that difficult to learn about diversification of assets and other terminology.
---
For you degenerate nutters who want to trade FX & CFDs, my list of good brokers is here. I hope this was useful. Like, comment & share..